Sustainability
Supply Chain Management
The sportswear industry relies heavily on a multitiered system of suppliers and subcontractors. Consumers, investors, and leading industry players are growing more concerned about whether environmental and labor issues in the supply chain are being properly managed. Product quality control is also highly important to sportswear brands' efforts to deliver consistently high-quality products to consumers.
For Xtep, proper management of environmental and labor issues and product quality control can reduce the risk of highprofile ESG incidents or large-scale recalls, enabling the Group to create sustainable shareholder value over the long term.
2020 Highlights
Supply Chain Management
The supply chain is an integral part of the Group's operations. We source raw materials and parts used in our products from different suppliers, while outsourcing a large proportion of product manufacturing to different original equipment manufacturers ("OEMs"). Currently, 64% of our footwear and 88% of our apparel is manufactured by our suppliers, and we are committed to implementing environmentally and socially responsible practices in the management of our vast supply chain.
As of 2020, the Group had a total of 306 suppliers, with 295 located in China and 11 overseas. The breakdown of these suppliers by nature is as follows:

1

Tier 3 supplier data are not available; Saucony and Merrell are excluded as we directly import most of the finished products from our business partner.
Supplier definitions
Tier 1 Suppliers

Suppliers providing finished products and their providers of special manufacturing processes

Tier 2 Suppliers

Suppliers of materials (e.g. shoe uppers, soles, fabric, etc.) and their providers of special manufacturing processes

Tier 3 Suppliers

Suppliers of accessories (e.g. zips, buttons, Velcro, etc.), packaging materials, labels, raw materials (e.g. leather, down feather, yarn, etc.) and chemical testers
The Supplier Management Center and dedicated teams from different brands are responsible for assessing and managing the performance of suppliers. To ensure that suppliers' ESG performance aligns with our standards, all suppliers are required to comply with our Supplier Code of Conduct, which is communicated to suppliers during the contracting stage.
As part of the regular supplier assessment process, we assess the ESG performance of both new and existing suppliers. In general, our supplier assessment process can be divided into two stages: new supplier admission and ongoing assessment.
New Supplier Admission
In 2020, all new suppliers in China were assessed by our in-house team, with a few suppliers overseas assessed by thirdparty auditors.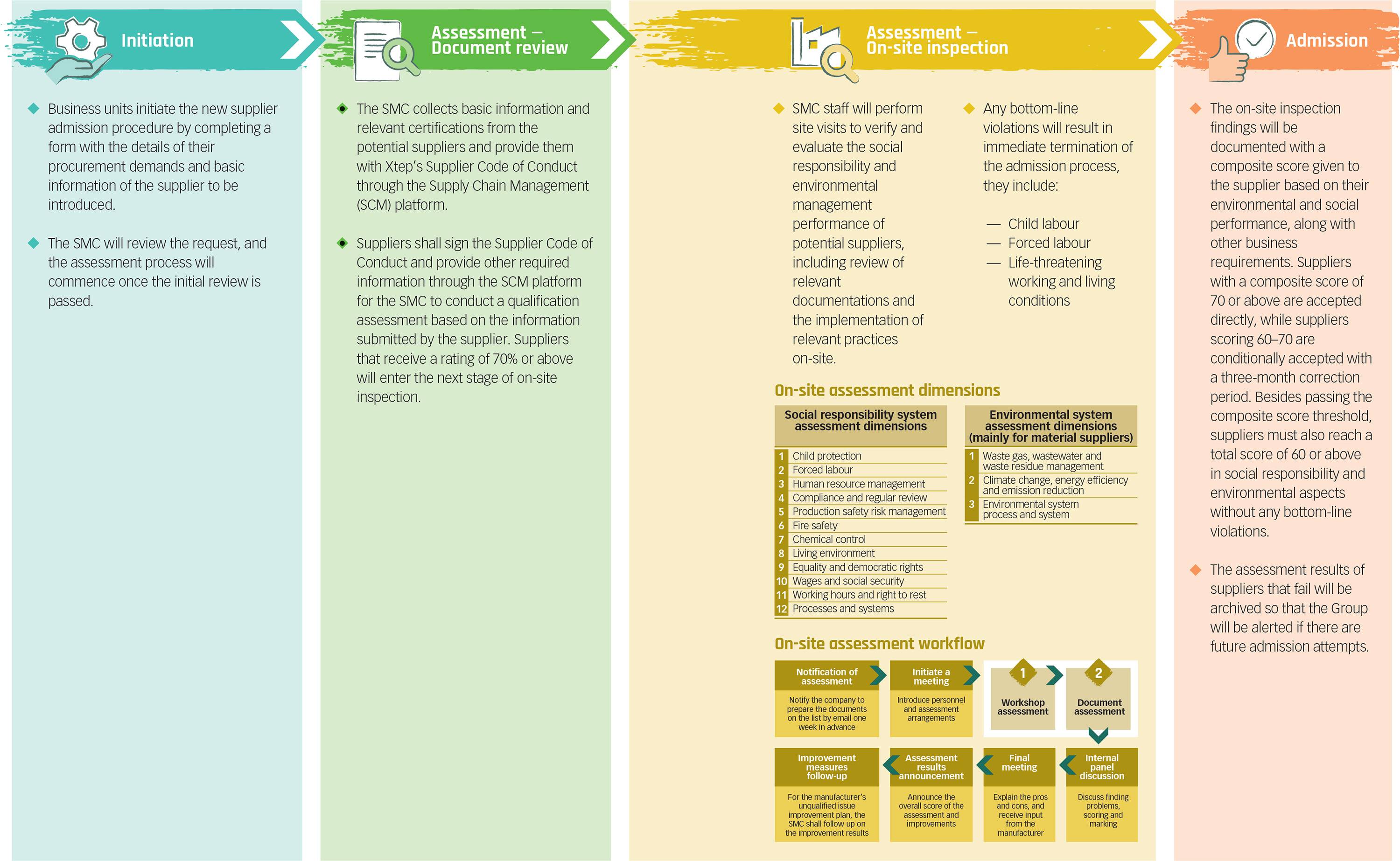 2

The relevant environmental and social assessment scores of K-Swiss and Palladium account for 25%
Ongoing Assessment
Suppliers of the Group are subject to on-going assessments, which consist of on-site inspections, financial and qualification assessments, and supplier performance assessments for special collaboration projects with brands.
The on-site inspection assesses suppliers based on the same five aspects addressed in the supplier admission process. For the core Xtep brand, environmental and safety performance makes up 5% of the entire inspection. Throughout the assessment process, the inspection team identifies potential improvement areas and provides practical improvement suggestions for suppliers to implement. There are four levels of improvement requirements depending on the score the supplier receives:
| | |
| --- | --- |
| Score | Implication |
| 80 or above | The supplier's comprehensive performance exceeds the Group's expectations and continuous improvement is expected. |
| 70 to below 80 | The supplier's performance matches the Group's expectations and self-improvement is expected. |
| 60 to below 70 | Gaps against certain requirements are observed, and improvement plans are expected for those areas. |
| Below 60 | Major gaps against requirements are observed, and the supplier is expected to implement corrective measures within the specified time limit. |
For cases where the suppliers fail to implement adequate corrective measures, we will cease our collaboration with them and seek alternative suppliers.
In the fourth quarter of 2020, the Group Supplier Management Center performed annual on-site inspections of suppliers that have collaborated with the core Xtep brand for one or more years, which account for 80% of the brand's supplier portfolio. K-Swiss and Palladium also performed inspections of its Tier 1 suppliers with the help of the Supplier Management Center and third-party auditors3. The inspections successfully identified various improvement areas for the suppliers and where applicable, re-assessments were scheduled to follow up on the supplier's implementation of the improvement suggestions.
3

For Saucony and Merrell, we import the final product from our business partner and relevant supplier assessments were conducted by the business partner.
Supplier engagement
We continuously engage our suppliers through different channels to better communicate our expectations and help them improve. In 2020, we conducted the annual seminar on the supplier assessment process to introduce suppliers to the latest supplier requirements in China and obtain their feedback on the existing environmental and safety assessment criteria. For overseas suppliers, we engaged a third-party auditor to organize regular training on ESGrelated matters.
Collaborating with suppliers to mitigate COVID-related risks
The COVID-19 pandemic led to a temporary suspension of production in early 2020, and the risk of operational disruption continued to loom over the global supply chain throughout the year. To prevent any disruption to our supply chain, we adopted various measures to: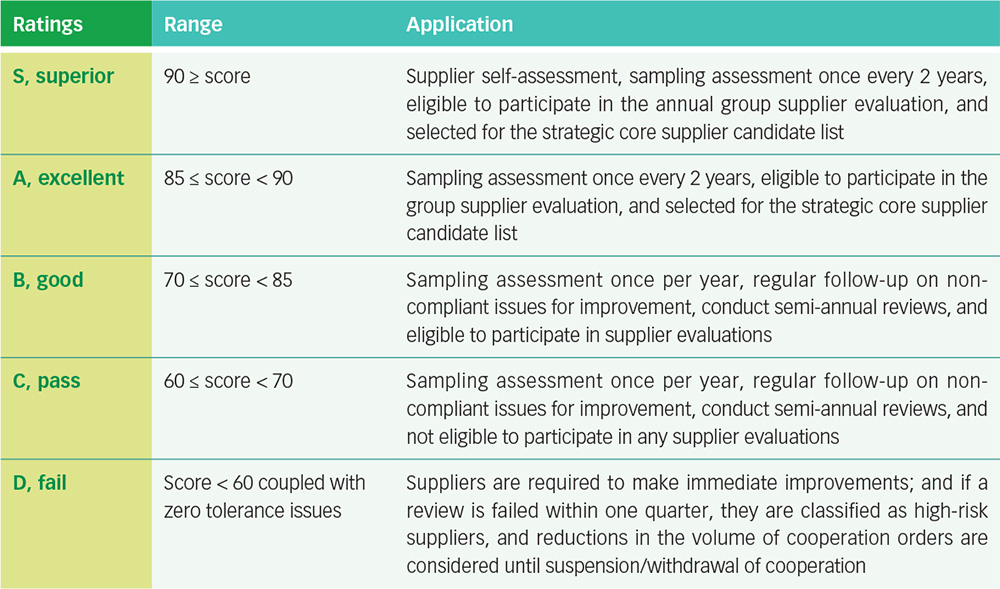 We also paid attention to the health and safety of our workers and required suppliers to adopt the following preventive measures: