Sustainability
Approach and Framework
Engaging Stakeholders and Identifying Material Issues
Stakeholder Engagement
In today's rapidly changing business climate, stakeholders' input regarding the ESG issues is becoming critical to the Group to navigate through uncertainties and achieve long-term sustainable growth. Therefore, to better inform our ESG efforts, we maintain regular communication with our key stakeholders including investors, suppliers, staff, consumers and media through various channels.
This year, we also engaged professional consultancy firm to perform a stakeholder engagement exercise. Through online surveys, we received feedback from a number of key internal and external stakeholders. Their input suggested what Xtep should focus on in managing and reporting its ESG impact and provided insights to our ESG management activities in the long run.
Materiality Assessment
We revisited our list of material ESG issues and prioritized them to set out our strategic framework. The process of the materiality assessment is summarized as below:

2019 Xtep Materiality Matrix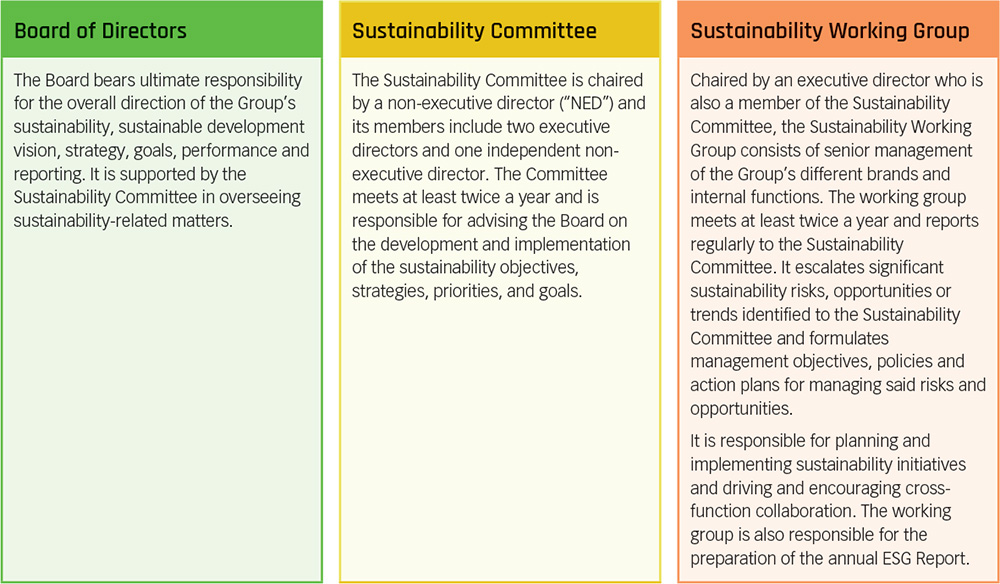 Our ESG Framework
Considering the material ESG issues identified, this ESG report will be structured into four major topics, namely "Product quality and innovation", "People empowerment and development", "Social advocacy" and "Environmental stewardship". Through this categorization, we hope to systematically present the various ESG initiatives and performance of Xtep in 2019.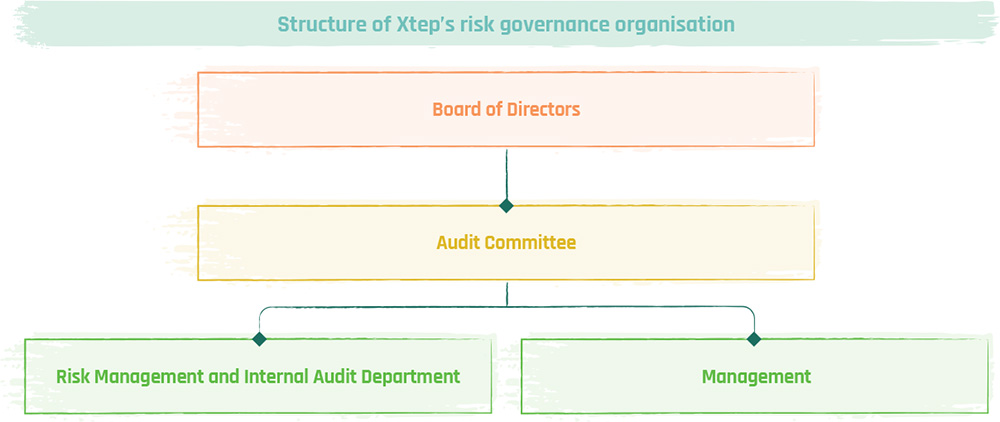 | | | |
| --- | --- | --- |
| Product Quality and Innovation | | |
| We continue to improve and ensure our product quality to meet customer expectations and high industry standards. This year, our quality assurance team has provided extensive training to our top tier suppliers to build their quality assurance capabilities. We are also stepping up our efforts to embed ESG factors in product development, such as working with our suppliers in material sourcing to ensure eco-friendly materials are used. The new line of sports shoes manufactured using DuPont™ Tyvek® to be introduced in 2020 is a perfect example of achievement in this area. | | |
| People Empowerment and Development | | |
| The Group is committed to providing a safe and positive working environment to attract and retain the best talents. In 2019, we reviewed our Environment and Occupational Health and Safety Management System at our production facilities to strengthen health and safety standards and protection for our employees. We have also continuously promoted work-life balance by establishing new staff leisure facilities, set up new performance review system to enhance transparency in promotions, and provided targeted training such as the XMBA program to our employees. | | |
| Social Advocacy | | |
| We continued to sponsor the highest number of marathons for the fifth consecutive year. We also sponsored the National Fitness Competition to advocate a healthy lifestyle among the general public. As a socially responsible enterprise, we appointed Jeremy Lin as our Charity Ambassador to support our activities. In February 2020, we also supported the fight against the COVID-19 outbreak by donating RMB20 million worth of supplies to the medical crew in Hubei province. For 2019, the total charitable donations made by the Group amounted to approximately RMB54.3 million. | | |
Environmental Stewardship
The Group continues to seek improvement in resource efficiency and environmental management across all our factories and premises. A photovoltaic system has been installed in our Hunan factory to reduce the need for purchased electricity, and all our lighting systems are now using LED modules to conserve energy. We have also been investing in the automation of our production line to enhance our production-related data management so that we could make more reliable forecasts for better resource planning.