Sustainability
Stakeholder Management and Materiality Assessment
Stakeholder Management and Materiality Assessment
Stakeholders' expectations are crucial to the Group's efforts to define its sustainability strategy and reporting. We aim to nurture our relationships with our internal and external stakeholders to ensure we are responsive and inclusive.
We commissioned an independent consultant to conduct a stakeholder engagement exercise to identify the Group's material sustainability issues. Through this exercise, we revisited and updated our list of material issues by considering our current business operations and the expectations of different stakeholders.
Stakeholder Engagement Process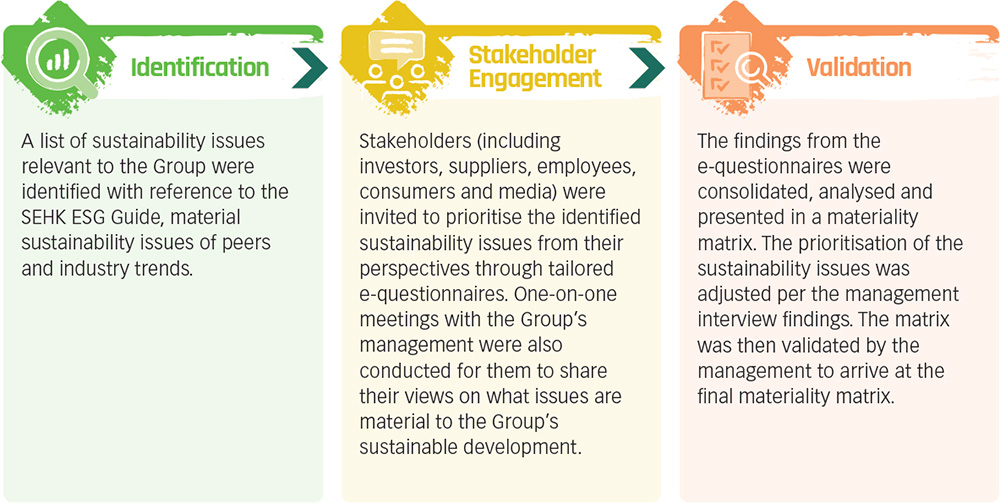 Materiality Assessment Result
The materiality assessment results identified sustainability issues that are the most important to our stakeholders, and we analyse the outcomes of the assessment for our sustainability approach, strategy and reporting.
During the year, we renewed our materiality assessment based on the input obtained from the stakeholder engagement exercise. The results reflected that social and product-related issues were comparatively of greater significance than environmental issues. Out of the 20 issues shortlisted, stakeholders are most concerned about the five issues of product quality and safety, product innovation, employment and welfare, staff training and development and supply chain management. In addition, the Group also recognises the growing concern regarding the environmental impact of the sportswear industry and intends to continuously enhance the transparency of our performance in this area.