Sustainability
Environmental Stewardship
Sportswear manufacturing relies on numerous raw materials as key inputs for finished products. Sustainability concerns related to energy, climate change, water scarcity and material circularity are increasingly shaping the sourcing of raw materials, including cotton, rubber, and synthetic materials, used in products. The Group needs to actively explore the wider use of innovative alternative materials and better product designs to reduce the environmental impact of its products, while improving its brand reputation and developing new market opportunities.
Also, as the Group performs some of its manufacturing, it needs to closely monitor the resource consumption and emissions arising from its manufacturing processes. These factors have the potential to affect cost structures and damage the Company's reputation over time.
2020 Highlights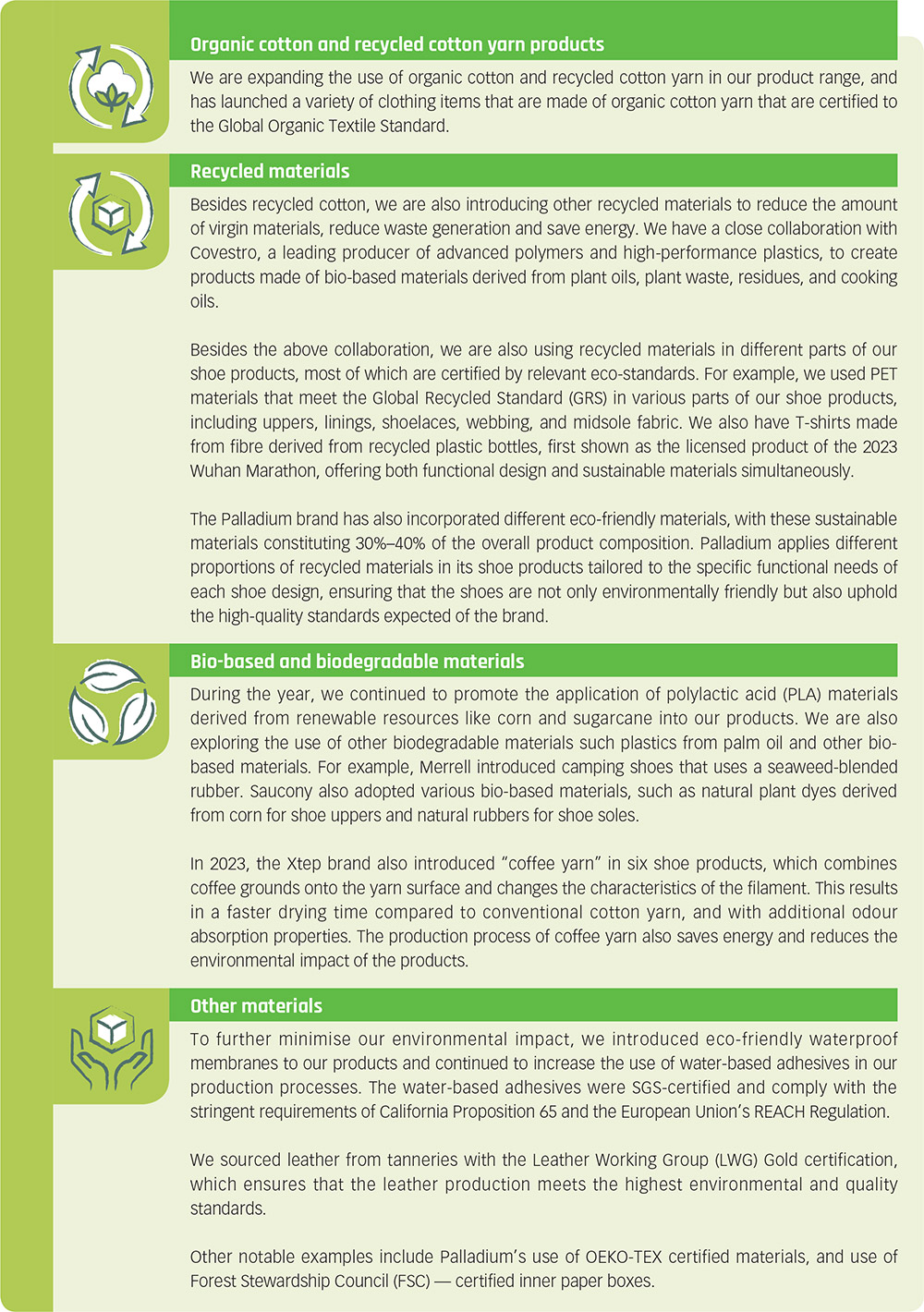 Sustainable Innovation
In the cycle of sportswear products, there are three main areas where efforts can be made to reduce environmental impact. These areas include the raw material selection, the production process, and the disposal of the product at the end of its life. At Xtep, we have been investing extensive effort in developing and adopting more environmentally-friendly materials to lessen the environmental impact of our products throughout their cycles.
XTEP-ECO Platform
As an important step in promoting product sustainability, we launched our environmentally-friendly technology platform, the XTEP-ECO Platform, in June 2020. In the coming years, the platform will be the Group's key driver of green material innovation.
Together with the platform, we also launched the new product series of biodegradable XTEP-ECO windbreakers. The series makes use of a plant-derived material, polylactic acid (PLA), which is extracted from corn and straw and is completely biodegradable within one year under certain conditions. PLA's dyeing temperature is lower than general polyester fiber by 0–10℃, and the setting temperature is also 40–60℃ lower. Hence, PLA also provides energy saving benefits and reduces consumption. Compared with woven polyester fiber, PLA uses 100 kilograms less steam per vat in the cloth dyeing process. We expect the full adoption of PLA in all apparel production to save the Group more than three million tonnes of steam each year and significantly lower production costs.
In the short term, the use of PLA will be one of the major focuses of the Ecological Chip Technology Platform. The Group is currently attempting to achieve additional breakthroughs in the application of the material in other products, with the aim of developing a full product line within three years. The Group plans to increase the proportion of PLA products within the chemical fiber categories in phases. In the coming three years, we plan to launch over one million PLA products on a quarterly basis in the market.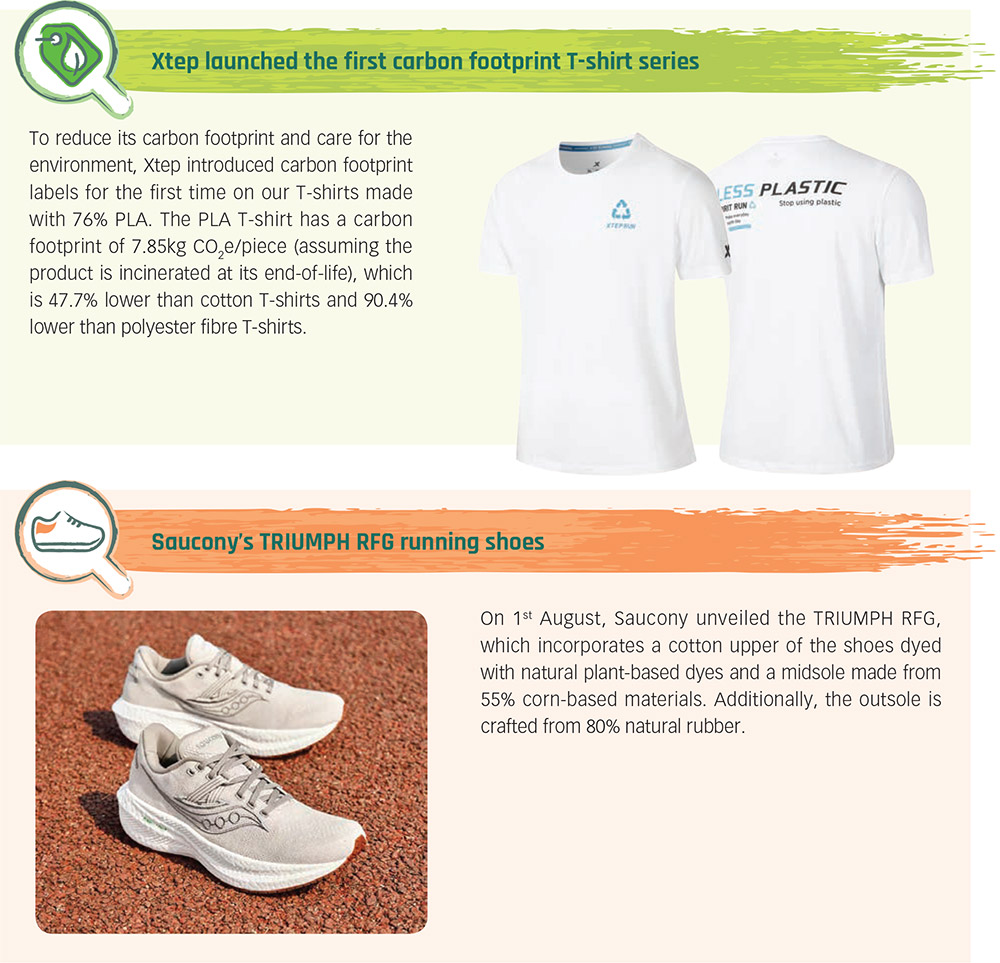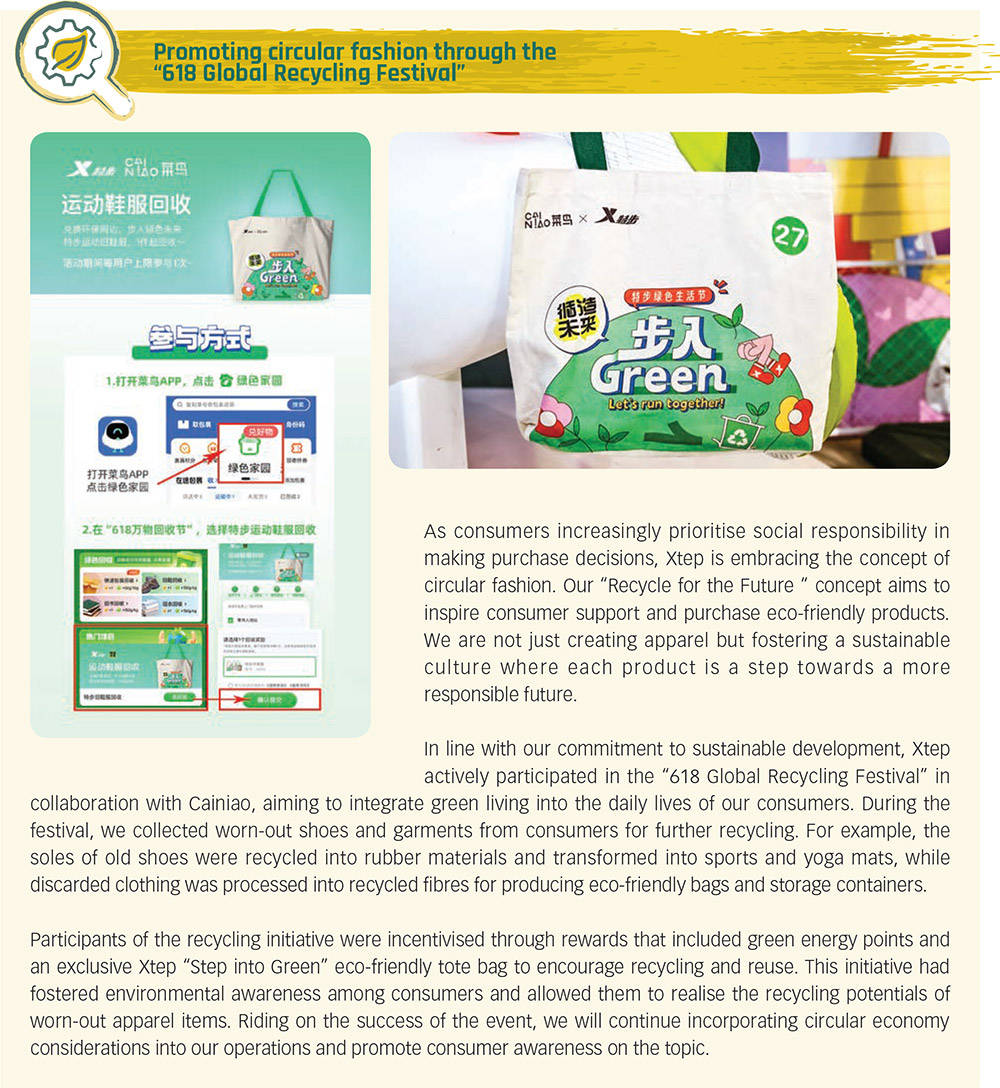 Recycled Collection
Introducing Different Green Materials
In addition to launching the XTEP-ECO platform and PLA products, we are also researching and developing environmentally-friendly products based on the needs of the market. Our current focuses include organic cotton, recyclable plant-based materials and biodegradable materials. Below are examples of the green materials and their applications.
Cotton
Cotton is one of the most commonly used crops in the textile industry and is also the main natural fiber used in our apparel products. As a natural material, its cultivation is associated with different environmental and social impacts. The production and processing of cotton requires a large amount of water, and the pesticides and fertilizers used in the process can pollute the soil and water in the nearby environment. The heavy use of these chemicals also raises concerns regarding the health of farm workers and nearby populations.
To address these issues, we have been gradually introducing the use of cotton with less environmental impact in our apparel and footwear products, including the following sources:
We have plans to expand our line of organic cotton and recycled cotton yarn products and will launch several products made with organic cotton and recycled cotton yarn over the next two years.
Recycled materials
There has been a growing movement in the industry to utilize recycled material for producing fabrics and other materials for apparel and footwear products. The use of recycled materials can save plastics and other nonbiodegradable materials from being sent to landfills, while bringing potential energy savings to the production process. In 2020, we launched footwear products under the Xtep and Palladium brands that feature shoe uppers made from recycled plastic bottles. We also launched the Palladium Organic Collection, which utilizes organic materials aligned with Global Recycled Standards, Global Organic Textile Standards, and OEKO-TEX Standard 100 guidelines.
After the successful launch of the recycled products, we continued to explore the possibility of utilizing more recycled materials in our footwear products. By 2022, we expect to introduce more product components that are manufactured with a high proportion of recycled materials in selected product lines. They include insoles, synthetic leather uppers and cotton uppers.
Biodegradable materials
We planned for and launched several products that use biodegradable materials launched or in planning in 2020. These materials include biodegradable plant-based mesh fabric, eucalyptus fiber, PLA fiber and other plant-based materials. We expect to develop more products made from these materials by 2022.
Other materials
We are also developing eco-friendly products that use other materials to reduce our environmental impact. These materials include Tyvek®, a 100% recyclable slice-like material made of high density polyethylene ("HDPE") fibers and combining the performance of paper and fabrics such as lightweight, water-proof, agility. Sneakers made of Tyvek® were launched in 2020.
Resource Efficiency
Energy and Carbon Management
The use of energy is one of the key contributors to climate change, and we recognize that the sportswear industry has to promote responsible energy consumption to mitigate climate change and its effect on our planet. We are adopting various initiatives to improve energy efficiency in our operations.
At the Group's production facilities, we have adopted various measures to improve energy efficiency and reduce carbon emissions. In 2020, we upgraded the lighting in our production lines with more energy efficient models. All fluorescent light bulbs and light tubes were gradually replaced with LEDs, and LED light sensors were installed to automatically turn off idle lights. We also adjusted the lighting controls at our Quanzhou facility to better accommodate seasonal daylight changes and turn off unnecessary lighting and LED displays.
We also made efforts to adopt cleaner energy sources. Currently, all boilers at our production sites are running on natural gas, which has improved energy efficiency and reduced air pollution and greenhouse gas emissions. We also trialed the use of renewable energy at our Hunan factory by installing solar panels. The solar panel system helped reduce our use of grid electricity and even generated excessive renewable electricity at times that could be sold back to the grid.
At our retail stores and headquarters, we focus on educating and motivating our employees to save energy. We regularly monitor electricity consumption at our stores and headquarters to identify abnormalities in a timely manner, and we have posted energy-saving guidance and internal communication materials such as posters to remind our employees of the Group's latest environmental policies and measures.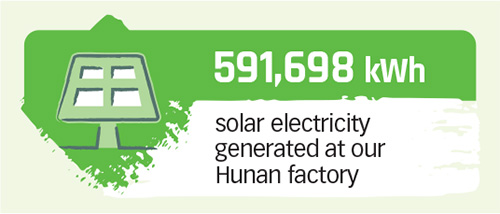 Energy Consumption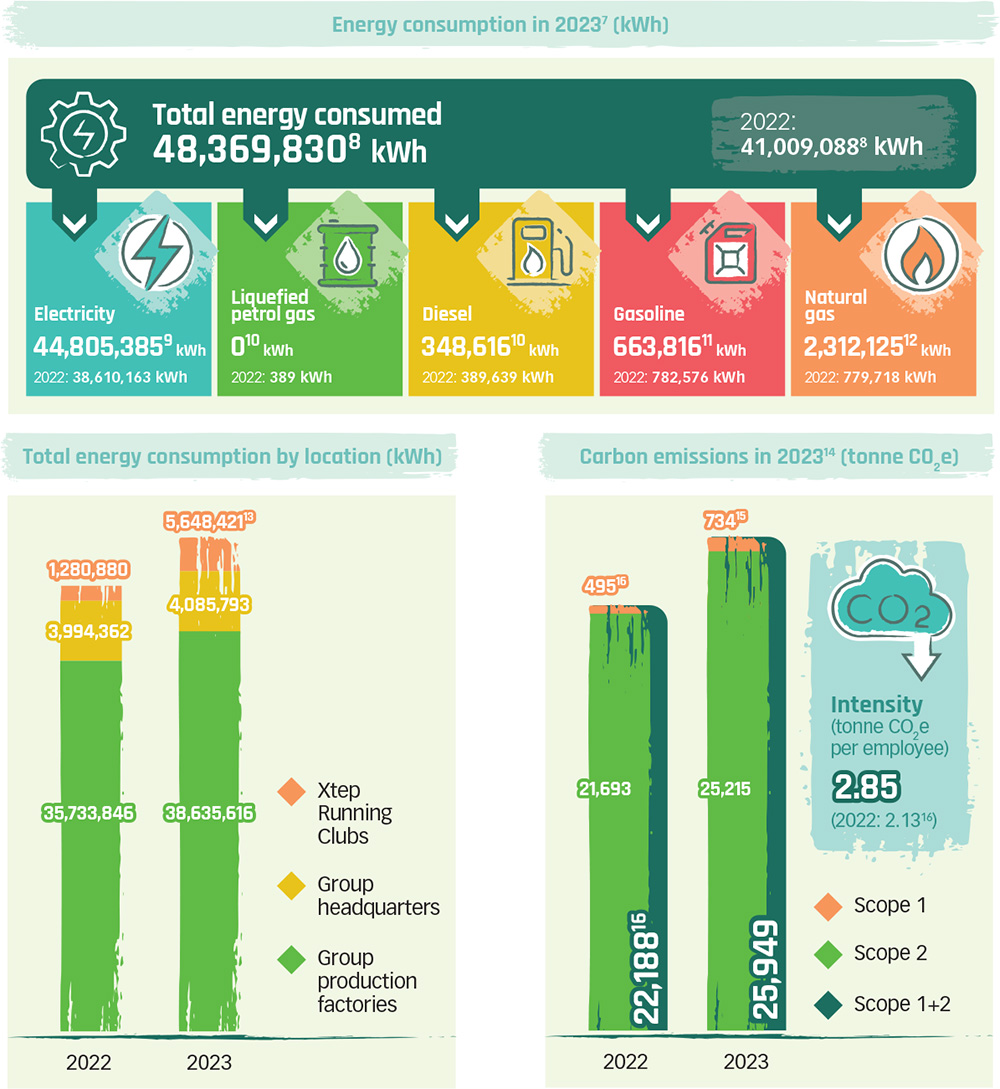 Scroll

| | | | | |
| --- | --- | --- | --- | --- |
| Energy Consumption in the Production Facilities | Unit | 2018 | 2019 | 2020 |
| Electricity | kWh | 25,471,006 | 25,031,357 | 28,317,171 |
|    — Fujian Quanzhou main Factory | kWh | 14,604,590 | 11,590,205 | 15,375,6838 |
|    — Fujian Jinjiang main Factory | kWh | 2,852,100 | 3,143,512 | 2,775,047 |
|    — Anhui Factory | kWh | 4,595,716 | 6,381,505 | 6,340,936 |
|    — Hunan Factory | kWh | 2,814,400 | 3,187,370 | 3,096,804 |
|    — Fujian Quanzhou Koling Factory | kWh | 604,200 | 728,765 | 728,701 |
| Natural gas | kWh | – | 806,974 | 744,166 |
| Liquefied natural gas | kWh | – | – | 181,359,8659 |
| Gasoline | kWh | – | 208,310 | 552,36810 |
| Diesel | kWh | – | 103,609 | 155,36010 |
6

Due to rounding percentage may not add up to 100%.

7

The reporting scope is expanded with the following new data points: (1) Diesel and petroleum consumptions at Fujian Jinjiang main factory, Hunan factory and Fujian Quanzhou Koling factory; (2) electricity consumptions at the Xtep Run Clubs and Group headquarters; (3) liquefied natural gas consumptions at the factory cafeteria. Due to the expansion of reporting scope, previous year data are not disclosed here and direct year-on-year comparison is not advised.

8

The increase was due to the production line expansion in 2020.

9

New data disclosure in 2020.

10

The increase in petrol and diesel consumption was mainly due to the inclusion of fuel consumption at Anhui factory, Hunan factory and Fujian Quanzhou Koling factory.
Water Management
The majority of the Group's water consumption occurs during the production process and at its dormitories. We have put in place several measures to improve water efficiency at our factories and dormitories, including process improvements and water recycling and reuse measures. In 2020, we adjusted the water pressure of our living quarters and installed timers to control the flushing frequency of the washrooms in our factories and dormitories, which reduced the water flowrate and subsequently consumption. In 2021, we will continue to upgrade the flushing control system at our employee dormitories to improve water efficiency.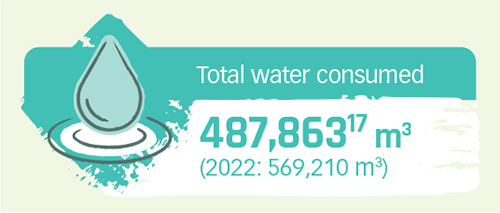 | | | | | |
| --- | --- | --- | --- | --- |
| Water Consumption in the Production Facilities | Unit | 2018 | 2019 | 2020 |
| Water | m3 | 455,850 | 429,271 | 521,628 |
|    — Fujian Quanzhou main factory | m3 | 323,665 | 193,467 | 283,82712 |
|    — Fujian Jinjiang main factory | m3 | 60,482 | 60,482 | 63,110 |
|    — Anhui factory | m3 | 24,160 | 117,118 | 105,735 |
|    — Hunan factory | m3 | 30,106 | 28,962 | 39,247 |
|    — Fujian Quanzhou Koling factory | m3 | 17,437 | 29,242 | 29,709 |
Packaging Materials
Regarding our packaging materials, we introduced sustainable packaging into our current products to reduce our environmental impact in July 2020. As the first step, we have replaced the tags and quality certificates of the Xtep brand's apparel and accessory products.
| | | |
| --- | --- | --- |
| Packaging Material Usage | Unit | Amount |
| Packaging Material | tonnes | 4,806.5 |
|     Paper cartons and shoe boxes | tonnes | 3,986.0 |
|     Plastic strips | tonnes | 36.6 |
|     Plastic tapes | tonnes | 31.5 |
|     Plastic bags | tonnes | 752.5 |
11

The reporting scope is expanded with the following new data points: (1) Water consumption of nine Xtep Rub Clubs; and (2) Water consumption of the Group's headquarters in Xiamen. Due to the expansion of reporting scope, previous year data are not disclosed here and direct year-on-year comparison is not advised.

12

The increase was mainly due to the domestic water consumption arising from the self-quarantine period of workers who returned to work from other provinces.
Environmental Impact Management
We monitor the emissions and waste from our operations and seek to minimize our environmental impact through better emission and waste management. To systematically manage the environmental performance of our production sites, we implemented an ISO 14001-certified Environment and Occupational Health and Safety Management System in 2010 to promote continuous improvement in environmental management practices at our in-house production sites.
Waste Management
In the environmental management system, we have set a goal of "zero chemical and explosion incidents", and we are committed to fully complying with regulations in hazardous waste disposal. The most common hazardous wastes we produce during the manufacturing process are used industrial glues and their containers. We source all glues from qualified international suppliers, and all glues have passed relevant environmental testing for hazardous chemicals and odor. For the limited hazardous waste that is generated, we appoint qualified third-party companies to properly handle and dispose of the waste to ensure that local laws and regulations on hazardous waste disposal are followed.
As many of our workers live in the dormitories, there is a considerable amount of domestic waste generated each day. In managing general waste, we uphold the principles of reduce, reuse and recycle throughout the different functions of the Group. All recyclable waste is categorized and recycled centrally. Other general waste from our operations is properly disposed of in accordance with local requirements. External contractors are appointed for proper handling and disposal of general non-recyclable waste.
Air Emissions and Wastewater Discharge
A certain amount of air pollutants is emitted from the boilers and other equipment in our production process. To reduce such air emissions, we have switched from using diesel for powering our boilers to natural gas, which has resulted in less air pollution and greenhouse gas emissions as well as improved energy efficiency. Before being emitted into the atmosphere, the exhaust gas from our production process is treated by activated carbon filters and ultraviolet ("UV") photocatalysis to remove and decompose pollutants to a safe level before emission.
Our wastewater discharge is not subject to any specific requirements from the government as the wastewater is mainly domestic with insignificant levels of chemicals. We discharge such wastewater into the municipal wastewater network in compliance with local requirements.