Back
27 June 2022, Hong Kong – Leading PRC-based professional sportswear enterprise
Xtep International Holdings Limited
(the "Company", together with its subsidiaries, the "Group") (Stock code: 1368. HK) ranks 3rd place in "Most Honored Companies" in the highly competitive consumer discretionary category in the "2022 All-Asia Executive Team" rankings organized by Institutional Investor, an authoritative institutional investor magazine based in the US. A total of 163 companies and 218 individuals competed in this category this year.
Apart from being granted the coveted "Most Honored Company" recognition, Xtep is among the top three on various award lists of Asia, Mainland China, and the Asia Small and Midcap sector, including "Best IR Program", "Best CEO", "Best CFO", "Best IR Professional", "Best IR Team" and "Best ESG".
Awards garnered by Xtep in Asia and Mainland China - Consumer/Discretionary include: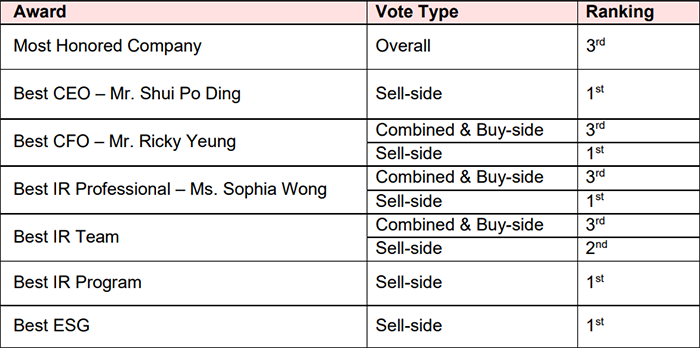 The annual rankings aim at revealing Asia's leading CEOs, CFOs, Investor Relations Officers, Investor Relations programs and ESG attributes that best uphold corporate governance standards and facilitate investment into their company. This year, 1,612 companies across 18 sectors and 2,606 individuals were nominated by 5,524 investors, portfolio managers and analysts. The companies were rated on several core areas, including Financial Disclosure, Services & Communication and ESG as well as attributes for CEOs, CFOs and the Best IR Professionals.
Mr. Ding Shui Po, Chairman and Chief Executive Officer of Xtep International Holdings Limited
, said, "We are honored to be recognized by the investment community in the 12th Annual Asia Executive Team rankings, and would like to thank those who have cast their vote of confidence on Xtep. We shall continue to maintain progressive and proactive communications with our investors in diverse channels and means to enable them to better understand our business endeavors timely while maintaining transparency in our disclosure. We will also enhance our ESG performance so that we may take our business to the next level post-pandemic."